Roadmap update | December 2022
OIP 13 and 14, auto-governance, Karma Bond round 2, and more.
Since the last roadmap update, the contributors have been focused on updates to the OMM market, auto-governance, and the second round of protocol-owned liquidity through Karma Bond.
OIP 13 and OIP 14
To close the loop on the exploit mitigation tactics discussed in the November roadmap update, the contributors submitted two proposals:
OIP 13: redirect Omm rewards from the OMM supply market to the DAO Fund
OIP 14: open up an OMM borrow market
Both proposals were approved, and so far, 481,000 OMM has been borrowed from the OMM market — a 31% utilisation rate.
---
Auto-governance, phase 1
To increase decentralisation, the contributors have been working to give the DAO more control over the smart contracts. Any funding requests previously required the team's input, but now bOMM holders can submit a Contract proposal to transfer OMM from the DAO Fund. When a proposal has been approved, anyone can enact it to trigger the distribution of assets.
Phase 2 will add support for the Fee Handler contract, so you can also request funding in any of the currencies available to borrow on Omm.
---
Round 2 of Karma Bond
Following the analysis of the first Karma Bond round for protocol-owned liquidity, it's time for a second, larger round of OMM bonds.
This time, the Karma team has proposed $20,000 of OMM for both the OMM/USDS and OMM/IUSDC bonds, and $30,000 for OMM/sICX. To maintain the same level of discount as the previous round, this bond round is designed to last 20 days.
Voting ends on Wednesday at 10am UTC, so make sure to cast your vote.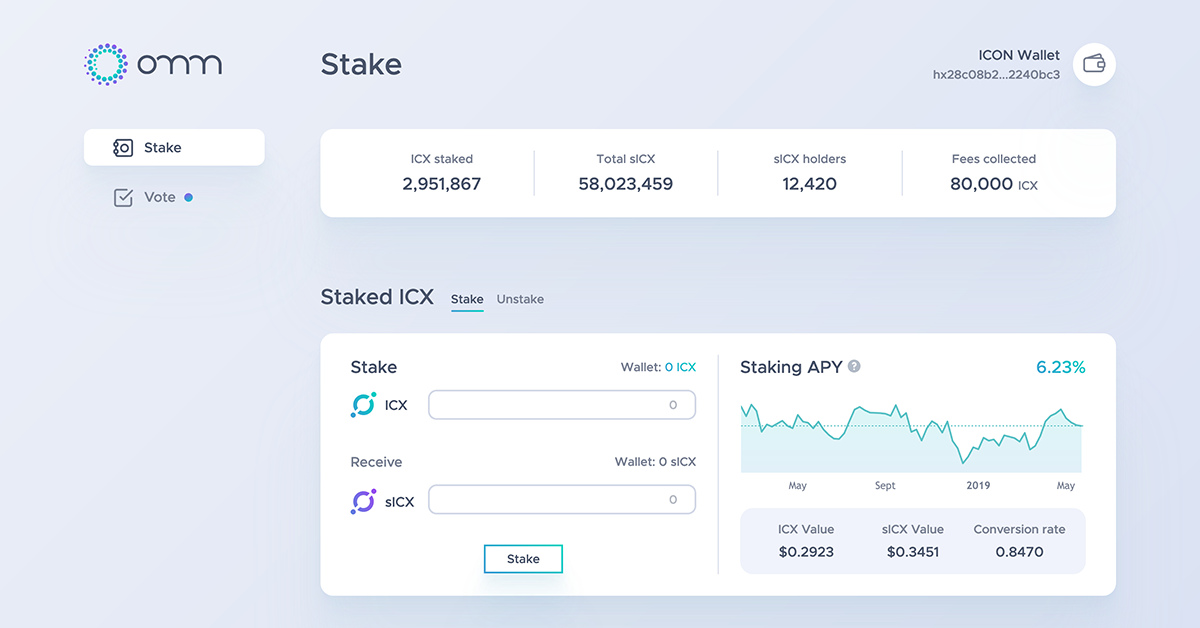 ---
bOMM status update
44.7 million OMM have now been locked in 1235 wallets, and 26 million bOMM have been created. The average lock-up time is now 2.34 years, up 3.5% from last month.
1 bOMM now has 1.62 ICX of voting power, a 6.7% decrease from last month. Assuming a 4-year lock period, $1 of bOMM is equivalent to $28 of ICX voting power.
If you're not sure which ICON validators to vote for, the app now shows which validators offer incentives for people to vote for them. The contributors also published ICON validators: an incentive to care to provide some guidance, and the Omm Monks have begun a discussion series with the validator teams that offer incentives.
---
Omm wallpapers and NFTs
The Omm contributors have been having some fun with branding elements for Omm, and have begun a new wallpaper and NFT series to spice up the roadmap updates.
Each roadmap update going forwards will have a bespoke design, which you can download as a wallpaper for your device. You can find this month's design, Focus, on the new Omm wallpapers page.
Each design will also be minted as a single, animated NFT in the new Omm collection on Craft.
The NFTs are a collector's item while the contributors explore potential utilities. If you'd like to own Focus, Omm's genesis NFT, retweet the roadmap update announcement with either a) your favourite highlight from the post, or b) utility ideas for the Omm NFTs.
The winner will be announced 7 days after publishing.
---
Omm Monks update
During November, the Monks focused on promoting the utility of Omm Tokens, bOMM, and the ICX voting power it offers. They began a validator discussion series to highlight validators that incentivise people to vote for them, like FRĀMD and ICON Asset Management.
Eye on ICON has also published several tweet threads to promote the power of OMM for market rewards and liquidity rewards, and continues to give Omm coverage on their regular podcast.
---
Plans for December
During December, the contributors plan to:
Work with the Karma Bond team to support round 2 of the OMM bonds
Extend auto-governance to support additional smart contracts and methods
Finalise a "Why Omm?" marketing page
Anything else you'd like to see in the Omm pipeline? Let us know on the forum or in Discord.